Stainless Steel Equipment Shop
Nicrome Stainless stocks a wide range of stainless steel systems and products from sink units to stainless steel cigarette bins. Solid and robust; our line of stainless steel products are cost-effective and provide fully functional solutions for your stainless steel requirements.
Choose from a variety of superior quality stainless steel equipment and stainless metal products.
Stainlees Steel Sinks
The first choice for busy production areas.
Designed for hygiene conscious environments, these sinks are manufactured using super brushed Stainless Steel. All sink units have been factory tested.
Eco Sink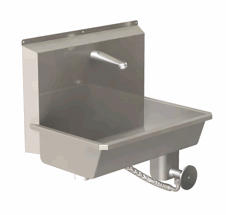 Specifications:
High quality
Wall mounted
Easy installation
304 grade stainless steel
Low maintenance
Water saving
Knee push operation
Single station
Cost: €500 including Vat and delivery
Standard Trough Sink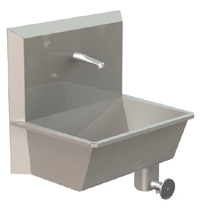 Specifications:
Knee push valve
Length 575 mm
304 Stainless Steel with super brushed finish
Plumbing requirements – pre mixed water with minimum water pressure of 0.7 bar
Pedestal mounting units also available.
Cost: €625 including Vat and delivery
Cigarette Dispoal Bin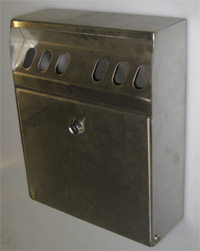 This wall mounted cigarette disposal bin is manufactured using stainless steel, providing maintenance free, easy to clean bin. The bin comes complete with lock, 2 keys, an stainless steel fixings. The large stubber plate and wide slot, collects the ash and cigarette ends and is not designed to accept rubbish.
Dimensions: w 265mm x h 330mm x d 100mm
Cost: €182 including Vat and delivery